By Cindy-lou Schmidt
This September, 470 residential properties were bought and sold through the Multiple Listing System (MLS®) of the Kitchener-Waterloo Association of REALTORS® (KWAR). This is a 12.8 percent decrease from September 2016, but still above the 5-year average of 437 home sales for September.
While the number of sales have dropped, the average sale price of all residential properties sold last month continues to climb by 12 percent compared to last year. On a year-to-date basis, the price of a detached home is an average of $553,029, an increase of nearly 25 percent compared to 2016.
Homes prices are continuing to rise after a mild summer slowdown. The appearance of a stabilization of prices may be accredited in part, to the make-up in the price points and types of homes sold in September. In the month of September, nearly a third of homes sold were in the $300,000-$399,999 range, while fewer homes over the one million dollar mark were being sold as compared to earlier this spring.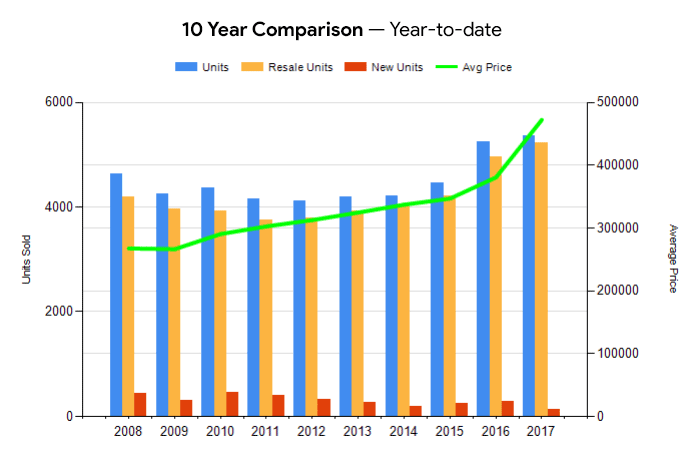 SELLERS:
Homes in Waterloo Region continue to be attractive to buyers from in and out of the area, but the inventory remains at less than half of the number of homes available in the previous 5 years (2011-2015) for September at 843.
BUYERS:
Listed properties are seeing more time on the market at 26 days as compared to the spring months, but homes are still being sold quickly as compared to this time last year when homes were on the market for an average of 57 days.

All in all, the Region continues to grow as investment in homes remains a good decision for those looking to own a place of their own. Steadily increasing prices allow sellers to continue to capture strong value for their homes, while buyers can welcome a more balanced market that provides some choice and room for consideration.
Detached homes made up about 60 percent of the sales recorded in September,with price increases over the previous September, and townhouses leading the way with a 20.9 per cent increase in prices.
If you'd like an accurate valuation of your home, contact us for a complimentary assessment. The condition of your home, location, and other key factors matter. For more on the official report on September's K-W Market Update including statistics from Wellesley, Wilmot and Woolwich Townships, click here.
Think big,