By Cindy-lou Schmidt
An increased stability in the Kitchener-Waterloo real estate market has emerged with a slowdown in the number of homes sold through the Multiple Listing System (MLS® System) of the Kitchener-Waterloo Association of REALTORS® (KWAR).
August 2017 is the third month in a row in which the number of residential properties being sold has not surpassed the previous year's unsustainable record rate of sales.
A total of 482 residential sales occurred in August, 19.2 percent below August 2016's record-breaking 598 units sold. This August's statistics for sold residential properties are also the third lowest in the last 7 years with 475 sold in 2010, and 459 sold in 2015. However, they remain higher than the 5-year August average of 473 units sold.
These numbers follow June 2017's 3.2 percent and July 2017's 5.1 percent decrease, compared to the previous year respectively. Part of this deceleration in sales has been due to changing mortgage rules, along with a number of policy changes enacted by the government to regulate prices, as well as income tax changes that have tightened the screws on home ownership potential. More homes coming to market has also given buyers more choice.
Still, the year-to-date total includes 4,876 residential units sold (up 3.7 percent compared to 2016).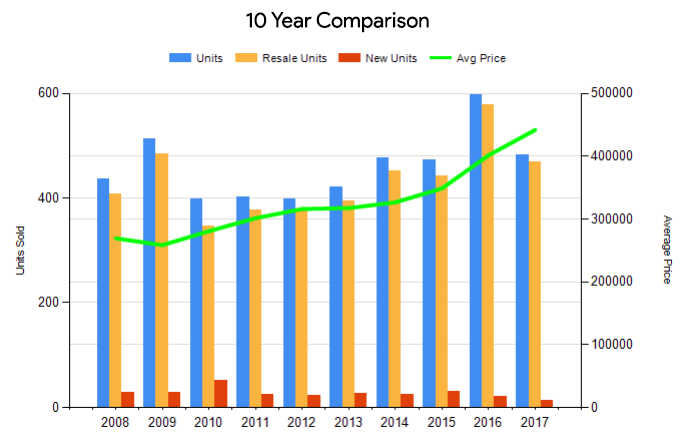 A history of data indicates a steady rate of sales that underlines the viability of Kitchener-Waterloo as a great place to live, own and invest.
Where does your home stand?
The average sale price of all residential properties was $441,992, an increase of 10.1 percent.
Detached homes sold for an average of $519,910, an increase of 5.9 percent.
Apartment-style condos sold for an average $294,787, up 26.5 percent.
Townhomes sold for an average of $338,191, up 13.4 percent.
Semi-detached homes sold for an average of $351,233, up 17.3 percent.
What does all that mean?
Buyers: The market is seeing some returning stability due to increased inventory and potentially less competition due to regulations and policy.

Sellers: It's a seller's market as home prices continue to climb and inventory remains comparatively low in our attractive region.

What next?
All residential homes continue to increase in value, with a noticeable jump in the sold prices of apartment-style condos.

If you'd like an accurate valuation of your home, contact us for a complimentary assessment. The condition of your home, location, and other key factors matter. For more on the official report on August's K-W Market Update including statistics from Wellesley, Wilmot and Woolwich Townships, click here.
Think big,