By Cindy-lou Schmidt
Well it's back to normal at least for now! Last month 425 residential properties were sold In K-W and area through the MLS System of KWAR. That is 20.1 percent less than November of 2016 but nearly on the mark of the 5-year November average.
November's sales units included:
246 detached homes (down 30.9%)
99 condominium units (down 15.4 %)
52 semi-detached homes (up 67.7 %)
27 freehold townhouses (down 3.6 %).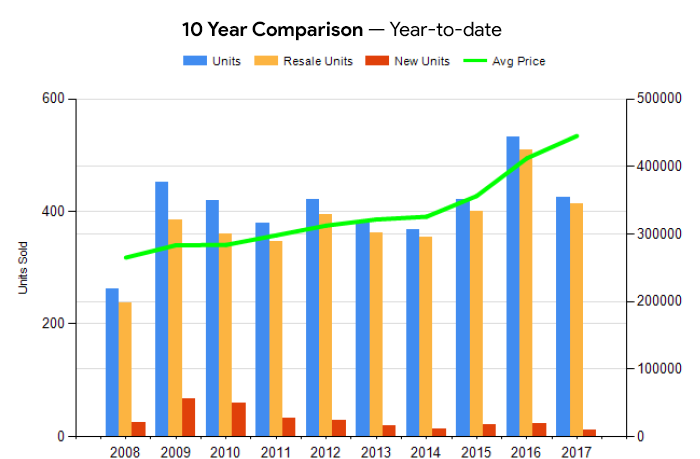 The average price of all residential properties sold last month increased 8 per cent to $445,363 compared to November 2016. Accordingly:
Detached homes sold for an average price of $515,721 (up 8.9%)
Average prices for an apartment style condominium was $277,660 (up 30.7%)
Townhomes sold for an average of $369,678 (up 19.3%)
Semis sold for an average of $376,677 (up 15.1%)
Cindy-lou's 1-Minute Summary:

The number of residential properties sold continues to drop, yet home prices in every style of home continue to rise by an average of 8%, with the greatest increase in price in apartment style condominiums. Semi-detached homes also saw a nearly 70% increase in popularity. Housing preferences mark increased density in Waterloo Region whether due to price or lifestyle.

Buyers: A true buyer's market could be on the horizon as choice continues to rise.

Sellers: Fear not, a healthy market and investment in Waterloo Region indicates a likelihood of continued progressive value in your property.
If you'd like an accurate valuation of your home, contact us for a complimentary assessment. The condition of your home, location, and other key factors matter. For more on the official report on November's K-W Market Update including statistics from Wellesley, Wilmot and Woolwich Townships, click here.
Think big,