By Cindy-lou Schmidt
Total residential sales volume surpassed 3 billion in 2017, coming out at a total of 6549 homes sold in Kitchener-Waterloo, just one percent less than 2016's record breaking results.
2017 ended with 301 homes sold in December, 13% above the 5-year average,  with some of those numbers accounted for by buyers who wanted to purchase a home before the new restrictive mortgage rules kicked in on January 1, 2018.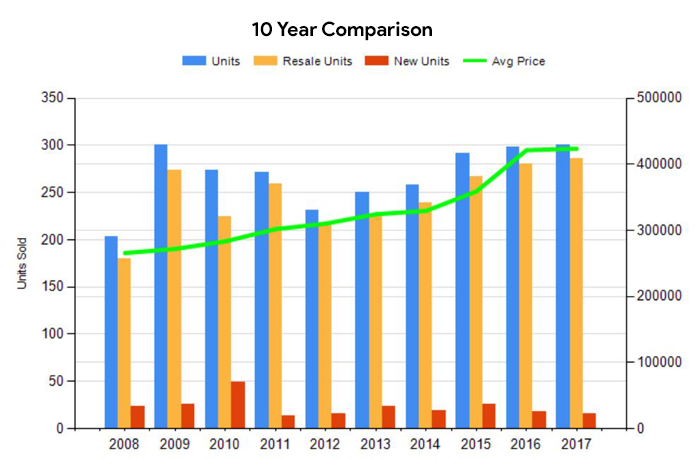 Last year's winter and spring market saw unparalleled home sales, with the latter half of the year seeing a decrease in sales numbers that remained above the 5 year average, as well as selling at an increase of 19.5% in the dollar volume of all residential sales last year ($3,061,739,723) compared to 2016, breaking the 3 billion dollar milestone for the first time.
Accordingly, the average sale price compared to 2016:
1. All residential properties increased 20.7% to $467,513
2. Detached homes increased 21.5% to $549,046
3. Apartment style condominiums increased 18.3% to $271,940
4. Townhomes increased 23.6% to $353,692
5. Semis increased 25.95% to $378,275
6. The median price of all residential properties sold last year increased 21.1 per cent to $429,900
7.The median price of a detached home during the same period increased 22 per cent to $495,000.
Cindy-lou's 1-Minute Summary:

With semi-detached homes seeing the greatest price increase in 2017, we are seeing a trend with people making the compromise from single-detached homes to semi-detached. This still allows them to benefit from a yard and main floor access as they adjust to the new rate of home prices.

Despite the mortgage rules that have pushed some buyers out of the market and others to purchase at a price lower than they would have in 2017, the demand for homes in Waterloo Region will likely remain higher than the supply this coming year.
Thinking of moving? If you'd like an accurate valuation of your home, contact us for a complimentary assessment. The condition of your home, location, and other key factors matter. For more on the official report on December's K-W Market Update including statistics from Wellesley, Wilmot and Woolwich Townships, click here.
Cheers,